After a day in Samsun, I leave in the morning. On the promenade goes towards Trabzon. Recep accompanied me until the end of the city, then it continues again alone. But just a little. A further tour cyclists next to me suddenly appears after half an hour on the bike. He is Phillip and hails from Berlin, can speak also German. He is currently on a bike ride from Berlin to Kyrgyzstan. We hold and shortly thereafter happens yet an another cyclist to do so. Stokes. He is Dutch and on their way to New Zealand. Philip and stoking already in Istanbul accidentally met and joined together. You want to continue both to Kyrgyzstan together.
But first it goes to Trabzon. I think super. I also want to go there. I am so the two, but from the first minute, I realize that this is not a piece of cake. The two try to keep an average speed of 30 km/h! Philip goes cycling at home. That's why he always the front man and notify for Stokes and me of the wind. So we more or less rush Trabzon contrary and the kilometre tumble just so. Bravely, I stay on the line at two. After a while, I'm even to the new speed.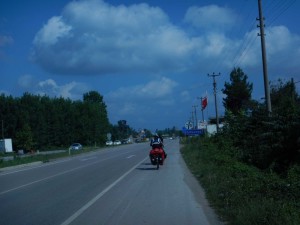 Towards evening we begin then to look for a campground. We discover a deserted Beach and know we stay here. Not every day is the opportunity to camp on a deserted Beach on the Black Sea. Since the two have a cooker here, there's even a hot evening meal for me.
The next day begins unusually late for me. Together, you just must make compromises. But we quickly make the kilometres. When we reach a tunnel, a little discussion ensues. Drive around or middle? Saving more security or 20 kilometers? I am outvoted and it goes through the tunnel. Or through several and a large, four-kilometer. Not exactly the most pleasant, if a truck or bus close to a blaring past. That's why I'm glad when I see daylight again.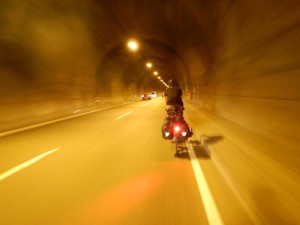 But once relaxed after the tunnel action. In the next town, we would like to meet a man, the Philip and stirs up two days before ever had met. We go to lunch together and he gives us some helpful information. Thanks, Philip and I repair his bike yet. Then it goes on.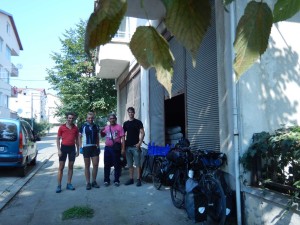 Stokes has been for a few days ill and there seems to be no better. To treat him to a break we take a hotel room that evening. Three that is priced quite well and as we all have a shower, we stroll through the city and build us our dinner in the local supermarket.
The next day, we ride until the afternoon together. Then it is, as so often, say goodbye. Philip and Stokes have found a Warmshowershost and want to continue tomorrow. Still my Iran I must apply for visa in Trabzon, Turkey. Something sad I'm looking after the two, then I start the search according to my campsite. Actually I rented a room on Airbnb me for the time in Trabzon, Turkey. But in two days. Alone, I would be driven more slowly and later been in Trabzon, Turkey. But it has been much too much fun with the two and so I wanted to pull them sooner.
And I'm lucky again. I see a petrol station on the other side of the road. Once I'm there, I notice that the gas station is enthroned high up on a cliff above a beautiful beach with black sand. I'm going on a small path down and I come down to discover a series of huts. A group of men who invite me on a Coke sits in front of one of these cabins. And that's not all. When I tell about my accommodation plans, you mean I could have the hut for tonight. I of course immediately assume that, in contrast to my tent that is pure luxury.
After a relaxing night, the Sun greeted me in the morning. The weather is so nice that I just spend a day at the beach. I enjoy the break and opportunity to go something in me again.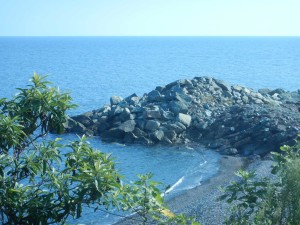 I leave the next day to Trabzon. After an hour I reach my place and a nice Turk named Fatih greets me. He shows me everything and I lümmle a day until I apply for the visa the next day. And surprise, I get it the same day! That doesn't happen often! I can consider myself so lucky. At the Consulate, I'm still a Swiss with the I'm going the next day in a Hammam. This is a kind of sauna with massage. Where the massage for me more from brush was. So I save me at least the showers.
I'm staying the full week that I had booked in Trabzon, although I have my visa already after one day. But so I can relax again and continue working on my blog.
Date: 25. September 2015-06. October 2015
Das könnte dich auch interessieren: