In the morning I get up happy, that at night no hungry on my tent has knocked. I put everything together and start. Throughout the day, it's always uphill and downhill. Uphill and downhill. However be mountains, or Hills easier. The key is to want to be already up and at a slow speed to be d'accord. Cheer is that I am invited by a young student to eat in the morning. Super nice!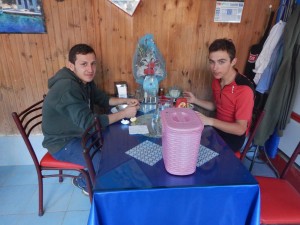 It is so slow morning, then afternoon. In the afternoon, it's going at some point more and more slowly, my legs feel suddenly very tired. Already slight Hill be insanely hard. But I know that is only in the head. Own brain lets one feel the feeling of fatigue.
In the evening I then once again find a campground. Today this is demanding something out, because I'm going through a long Gorge. I'm lucky but once again and until then to find one of the best places. Relatively high, about the whole roar of cars and trucks with an idyllic view of the hilly countryside.
It is idyllic but not for long. At some point, fighter jets flying close over my head. Fighter jets? Jerks at the latest as of the first Flash in my field of view from the sky me is clearly no fighter jets were! This is a storm! And I'm sitting here on a mountain! With a bike! Metal!
I jump up, run to my bike and throw it fifteen meters from my tent away in a thicket. If a lightning strikes, I so don't lose everything. Then I dig out my rain jacket and head lamp and lock my tent, hop excitedly to the page as a lightning strikes cracking and much too close. I'm running or, better, stumble down the slope. I could have saved me the lamp. A Flash lights up the way me after another garish. At some point, I find a pit and throw myself into it. By the way, my flashlight yet. Who flies out in high arch back out of the pit, is also metal. Then the ROAR goes really. Flashes twitch incessantly from heaven, even far away, even quite close and the previously so idyllic Valley is filled with a crackling and ROAR. And that's not all. I won't sit in my pit, there is joined by more heavy rain to the event. Heavy, thick droplets raining down on my head and also my rain jacket is no longer to protect me from the flood of water. From the cold, I wait out so over an hour Bipernd in my pit.
Intellectually, I digress. What would be the newspaper title? "19 wants to ride the bike around the world, but is killed by lightning?" A glucksender laugh Oh me. So, I would not have to go on world travel. Since I can at home into a pit set. That thought probably the storm and after over an hour, it's finally over. I crawl around quarter of an hour on the ground around the pit, because since my flashlight should be somewhere. With their help, I make it then, to find my tent and come again in the dry. Tired I let me sink into my sleeping bag.
The next day, I'm looking a town to get some food. When I again out there make me my way, I am invited by three men on a Cay Cup. While we talk, something that has never happened in my life happened. I will appreciated older than I am. 30. I don't know how that now comes, because 30 is also long. Previously I was always younger misjudged.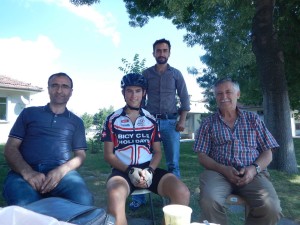 Then, in the evening, I find really great camping. Next to a gurgling stream, I open my tent on the streambed. Hopefully I have today little more luck than yesterday, otherwise I'll probably today night washed away. Thank God, which is not the case.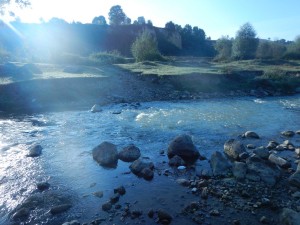 The next morning, I'm then a bath in the stream. I don't know whether that is cleaner, but is very hard to be honest, dirtier than I. After that we then head to Samsun. These are 70 kilometers and 900 metres of altitude difference. But this time in the right direction, because Samsun is located on the Black Sea. And so I leave you today do the work by gravity. That's why I'm already around noon in Samsun. I make me my way through the streets to get to the sea. When I then go to the promenade I meet an other cyclists at once. He speaks to me and invites me to an ice-cream. But that's still not all. When he learns that I still don't know where I sleep today, he offered, I could sleep with him. As it turns out he was already on tour and was invited. Now he wants to give some of it back. At 22, he is even almost as old as I. From his mother, we are great in the evening cooking. I hardly believe my eyes. It seems to me like a Royal feast. The same again in the morning.
Today is an Islamic holiday. The story to this holiday heard so much like the story in the Bible, in which Abraham wants to sacrifice his son, but then stopped by God wants for me. Instead, he sacrifices a sheep. And what is happening on this morning. From the balcony can I follow, as only a sheep and a cow then be sacrificed.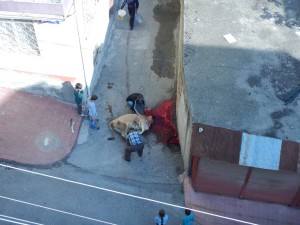 The whole thing was something funny with looking at.
I had a great time with Rachel the rest of the day. I'm so glad that he has taken me up on the beach. Thank you very much!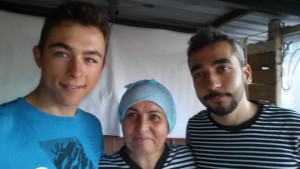 Date: 20. September 2015-24. September 2015
Das könnte dich auch interessieren: