It is  8:00 am, the air is still cool and the sun is shining already quite promising. In my mind, I go once again through my packing list and wonder if I forgot anything. I don't think so. Then I wonder about what is yet to come. There are 15,000 km ahead of me:
15,000 km distance
15,000 sweat
15,000 hard work
15,000 fun
15000 new experiences
15,000 km of highlights, but also low points
On one hand, I'm excited to see what awaits me. On the other hand, I am also sad to leave everything familiar behind.
After five minutes, I arrive at the organic market Möller where I want to buy some food for the next 24 hours. Nico and Mike are already waiting for me, they will accompany me today. I am really happy about this. After my purchase, my bike weighs 50 kg. Actually this is way too much for my body weight.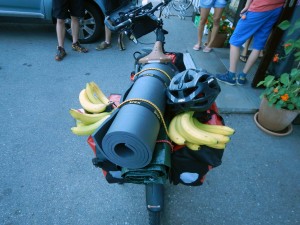 The obligatory bananas can't be missing. 😉
Then the three of us start our journey and we have a a lot of fun together. Every 20 minutes we take a break, because I think that I've forgotten something, somebody is hungry or we need to adjust a saddle…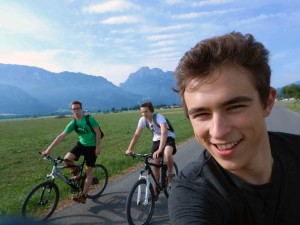 Time just flies by and at 1:00 pm we arrive in Altenau, where we have lunch together. After lunchNico and Mike leave me to ride back home again.
Thanks you two, that you've accompanied me!
A bit sad to be alone I continue my trip. Quickly I reach Murnau and take a bath in the lake FroschHauser. Rarely, a cooling has felt so good.
In the late afternoon I become aware that my mobile phone's navi does not know the difference between a mountain bike and a 50 kg heavy touring bike. It sends me up a mountain, then I ride down a trail, where I almost lose all my bags. Later in the evening, I am somewhere in the wilderness. I briefly consider and decide to pitch my tent in a small wooded area.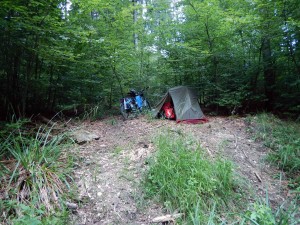 As I am just ready to fall asleep something four-legged approaches my tent. If this will be a restful night?
Date: 24. July 2015
Das könnte dich auch interessieren: