When I leave in the morning divan which deer, it has snowed over night. And also the temperature is further decreased. After the first few minutes on the bike, me is clear: it can go no further. I can't even feel my fingers.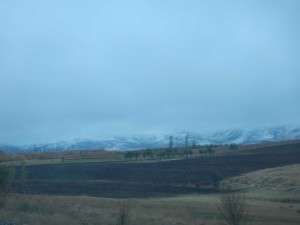 I weigh shortly and I decide to do so, to hitchhike to Hamadan. Over 200 kilometres and that's why it should be there slightly warmer.
After I found a suitable road indentation, I start to get my fingers out. It takes too long, since the first car stops. It looks somewhat small for my bike, but after yesterday, I know it fits somehow in there already. I put my head so the download wanes window and beholding a smiling Iranians. What I'm doing here is his first question. I declare that I just try to come to Hamedan and not want to cycle because it's freezing.
The conversation runs slow, because the man is only a smattering in English. When I taught him after a quarter of an hour at last, that I want to Hamadan, he says that he knew somebody in divan which deer who could help me. Slowly I'm slightly impatient. I don't want back after divan which deer and take any bus, which is too expensive for me! I want to just hitchhike. I'm trying to explain the whole thing to him, but he doesn't understand it only back and starts babbling on Farsi. I say only "No. Farsi, no." And the man? He only laughs and continued gurgling on Farsi. I can not have.
I therefore again turn me from the car and just try to continue with my original plan. However, with little success, because everyone thinks I had found someone already. Namely, these Iranians standing still next to me. Why is he still with me?
I lean so once again kindly in the window, only to again a torrent Farsi from to get. Slowly I am starting to be really annoying. Since these Iranians with his car, prevents that I can hitchhike and bullshits me all the time in Farsi, always grinning head over heels.
As I him not with words, or teach English words can, I am about this grinning honey cake horse just to "Piss off!" in the window. At this moment keeps a second car with two other Iranians. Synchronously, get all three of their cars and approach me. As they stand just in front of me, it says: "please Passport."
Oh you shit! Secret police! Na that would have been funny, if I would have yelled at the cops "Piss off" in his window! At once, I'm quite meek. But wait! Is this really the police? I express my doubts and the three lights me a card, in Farsi, of course. Since this still not convinced me, I get even a uniform to see. Well well…
I have the three check my passport and thank God all is well. So, the two police opened up to soon left us. Only the Grinsekuchen of the beginning remains. He suggests me to can – take me of course at a small charge for the expense but to Hamadan.
This price is not so small, and I therefore do not agree. We start to negotiate and because I tough stay, drops the price drops and eventually we arrived at 0 Memorial. Super!
Remains only the hurdle to stow the bike in his car. It's stuck several times and I must bend me to imagine how he would explain that his superiors. As I squint to the policeman, he laughs at unexpected way with.
After about half an hour we roll out finally. The landscape passing by the window, one last time, I can enjoy the views of the snow-capped mountain slopes.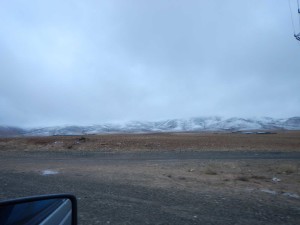 At noon we stop beside the road and the COP will bring blanket and water from the trunk. Then he briefly washes his feet and hands and begins to pray. Very interesting to watch.
In the afternoon we arrive about a city 60 kilometers from Hamadan. And there is something that can happen even in the Iran happening. We drive into the city and stop in front of a House. The policeman then asks me if I would hunger for. And in fact, I did.
So it just disappears in the House and comes back with an older man and an elderly woman, which turn out as his father and his mother. They invite us to her house and serve to eat there. Slowly, my opinion of the police, he seems indeed insane to be nice turns. Now I'm sorry almost a little, that I had acted the price so far down.
We're staying for almost an hour, then we break up again. The police officer explained to me that he must return to divan which deer because it is already late. But he would organize me still continuing.
So we Park next to the road and the police officer starts to stop all possible pickups and trucks. After a few minutes roars through a truck full a puddle next to us and cum on the policemen. Uhhh… I kinda turn away, because I expect it just roars out of trouble. But he only smiling turns to me and says: "It's cold, isn't it?" The laughter never really exorcise is the…
For many, stopped cars, the policeman finally finds a truck that takes me, even completely free of charge, up to Hamadan.
What a meeting, I think to myself only when I then nozzle towards Hamadan in this truck. The laughing policeman – is it me probably long memories remain. His grin could exorcise really nothing him.
In Hamadan, I am invited by an Iranian then shortly after my arrival. He has a family and his wife cooks for us. After dinner, asks he me something which I do not exactly understand. I simply say that everything for me is okay, to cause any further trouble. The question was, where I want to sleep. As I understand it, the family is already in a pulled into the small nursery. And I can also more otherwise persuade my hosts. So lie in the evening, I was in my bed, in the twenty to twenty meters large living room and think to myself, what I put on there again.
Finally I want to apologize again for the lack of blog posts in the last time, it was just too much going on in Dubai. India visa, India visa, if you know what I mean. Now, the entries should come back regularly.
Date: 2. November 2015