Today is my second day in the Iran. After my first has been rather negative remembered me, I hope today for some better luck. And I have only once. Carlos, with which I myself yesterday had agreed to continue, turns out a very nice tour guide. Immediately leaving Tabriz, I will cry sure a tear behind the city.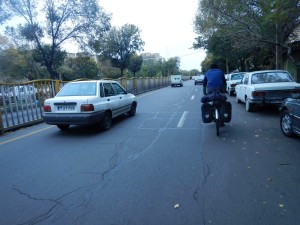 Carlos travels differently than I. He is better informed and not the direct path to choose. He has therefore also over 10,000 kilometres behind him since his home country France. I, however, "only" 5,000. And so we're also not the "direct" way, but the more beautiful now.
Beautiful, because it's a great Salt Lake, which is even saltier than the dead sea. Just constantly goes back for some years of the water level and so it takes a while until we reach the shore. It is worthwhile but.
Quickly, I also notice Carlos is better trained than I. On the first day I'm behind hardly him towards evening. Probably even the break put me in Yerevan in the muscles and I have to again until warm. Anyway, I'm glad, when we set up our tents then.
The first night we sleep behind a small storage building. Recently we asked the owner for permission and the Iranian hospitality is evident here for the first time. He wants to invite us home namely equal to itself. Unfortunately he lives 10 kilometers away and because it's already dark, we wave off.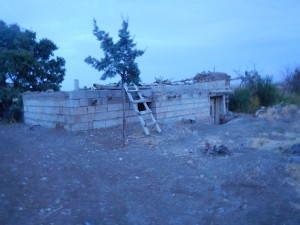 But the hospitality does not break down. The second night we have pitched our tents in an Apple Orchard, there motor noise from the sleeping scare us. The farmer of the Apple Grove has a friend from our presence and spared no effort, nor to drive 11:00 us out and invite us to go home. It's just been around 11:00. We wave off again drowsy to fall back in the springs.
The next day, it then goes over a small pass. Behind it then waits for a worm hole and all of a sudden, we are in Africa.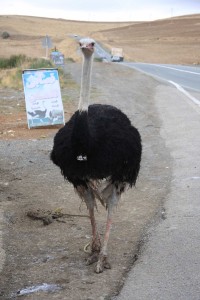 Okay, joking aside. Nevertheless, I wonder what drives an ostrich in the Iran. Maybe make holiday? This beautiful idea is catching up quickly the sad reality, as an another bouquet is dragged out and slaughtered before our eyes.
The blood gushes, the Strauß jerks, then the head is cut off and begin the butcher to pluck the feathers. The meat is also really expensive for Iranian relations.
In the evening we then propose our tents under a street in a small valley. I like it that Carlos has a cooker here, so there's always warm tea in the evening. And a couple of stories. This tour is Carlos fourth tour and so he tells me how he in Laos with a Police General together rumbled, was captured in India by rebels or with taxi drivers to a broken windshield argued in Nepal. All this very much alive.
For the next morning, the weather luck leaves us once. At least the few that we've ever had. By cloudy's shifts on rain. Even a real chill winds and quickly the shoes are filled with water to the top down. Here's comes us just right, that we reach the next large city Bukan.
We have to settle some purchases, but everywhere where we stand, formed just a small cluster of curious passers-by, watching every step of the funny dressed from the far West.
When we then just pass by a car repair shop, is a mechanic jumped out and wants to invite to warm up to his workshop us. First we want to reject, but because he remains persistent, we sit in a warm before a small gas heater and dry our completely soaked Cycling clothing.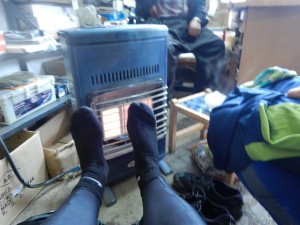 For better understanding, even a nephew who is of English-powerful, is brought to. So we sit in the garage for a while and entertain us, hardly realizing that as time passes. Whoosh, it's noon and our host of Ishmael are to invite us out to lunch.
So, we go home to him and have raised all sorts of delicious from Ishmael woman. Being raised here not quite right is that we eat is quite typical, traditionally on the bottom. I like the food on the floor, it is somehow simpler and less complicated.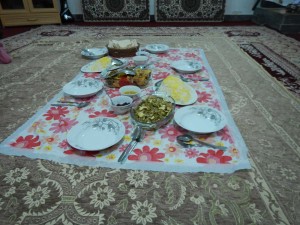 After dinner, Ismael offered that we could stay with his brother, and so this afternoon would have time to visit a well-known water hell. The trip is really nice and we can drive through water hell even with the boat.
In the evening we are then at home with brother, Ishmael. He has invited two extra friends, can speak good English and so we talk until late in the evening. For dinner, there is still a soup, cooked extra of the mother for us. We can wash our clothes yet.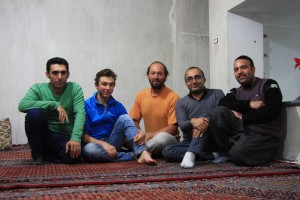 The next morning we say goodbye then stirred by Ishmael and his family. He accompanied us even a few kilometres through the city on my touring bike and I on his mountain bike, until he finally needs to be reversed.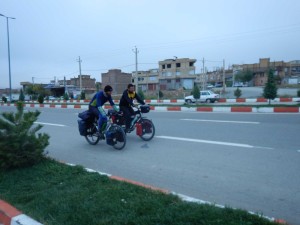 For me and Carlos then continues the morning until Saqquez. Where we part ways. For me, it goes on to Esfahan, Carlos will make on the road to Kermanshah.
As we reach the crossroads then, Carlos says: "Well, everything has an end…" In the past I have used really few days to him and so I am somewhat sad at our departure. We press the hands us once again, change a few last words and then go in different directions of. A while I can recognize him yet, then it disappeared in the distance.
After a few meters, I stop briefly to a photo to make, a very excited Iranians coming to me here jumped. I should call my friend immediately, because its range was a "big mistake." I must smile inwardly as Carlos extra opted for this, more complicated route. I can not teach but the Iranians.
Date: 27. October 2015-31. October 2015
Das könnte dich auch interessieren: