The bus ride takes longer than you think to Tabriz. 17 hours in total. And because we find ourselves most of the time on a thoroughly Holey pass road is not to think about sleep. At least the border crossing in the Iran runs without any problems. A few questions, then scanned my bags soon and that's it.
Anyway, I'm thrown then at 4:00 in the morning, totally overtired from the bus. This fact leads further up to Tehran. And so I am now on a sandy strip of side in the dark and no one is seeing.
Because I'm really tired, a fatal error happened to me while assembling the bike and I can think no longer used saddle can. Na toll. What now?
Not the end of the world, because fortunately there is a good bike shop in the city. But it is still 4:00 in the morning. As soon the city feels almost spooky. Everywhere signs flashing, but no one is on the way. I wait several hours, then the bike shop can quickly resolve the issue thankfully.
Is just a special holiday, there's a kitchen free for Muslims to eat. Nobody knows that I'm not. Well saturated will then start from Tabriz. I'm starting to me work my way through the traffic, but after two kilometres keeps a car next to me and the window opens. There are two young men, we call them Bob and John. John speaks even English. We talk a while, until they offer me, to show the city. After my bike is safely tucked away in a nearby shop, we go to a Lake, then to a department store. The Department store is rather unspectacular for Europeans, but Iranians are like also Turks, of them thrilled.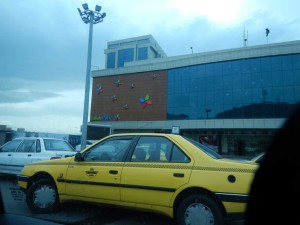 However, the trip to the Department store as a real lucky strike turns out. Since I have my handlebar bag, a different wheel tourist on me is attention. His name is Carlos and because we have planned similar routes, we're dating for tomorrow. Super!
In addition the two for me setting up my phone, recharging the SIM card and we go a juice drink and lunch. All the free mind you! When they want to buy me then but still a jacket for the cold, this is bit too much.
After lunch, John must be for an hour in the University. Then, again, we should get him. I can guess not expected, Yes, not even what happens then.
Bob is driving me to one another, not yet opened department store. And there he begins to turn me on! Read it right! Turn on, to gay, whatever. His motives are clear and bah…ich find it disgusting. I him make clear quickly, I don't want anything from him and he looks at me with wide eyes. With a quiet voice, he said only: "No, Samuel?" What the hell?
If John wasn't, I would have gone at this point. With him, I understand me but better and so I am somewhat annoyed, but better things when we pick him up again.
Even Bob's girlfriend and one more woman we pick. Yes, that's right. The Bob, the me earlier to the… wanted to seduce a friend has. I think has nothing at all to me, because I'd understand it hardly.
Together is then a "Hubble bubble bar", as they call it. It's simply a hookah bar. I don't smoke but, I don't start now sure. And at some point, Bob disappears with his girlfriend and then John. When Bob comes back he gurgling funny stuff in Farsi, but again, I understand the word "Sex".
I go myself to John English, and he asks actually, if I want to have sex with Bob's girlfriend? UM, what? I think me being interrogated to have and just ask "What?"
"Do you want sex?", the answer is there again. I think I must be crazy or better, the two spiders. Who offers because his girlfriend to have sex? In some circumstances this stupidity was still funny, but Hello, we are in the Iran. In the Iran! There something in prison can end!
That I don't know at the time but still, make clear but still annoyed that I have no interest. No feeling behind it the whole thing like masturbation, just with women instead of hand. At least I see it so.
In any case I will no longer stay at the two and back to the bike. When it then comes to the next Hubble bubble bar, I decide to take a taxi. To my amazement, they pay me the taxi. How does that fit together again?
With many questions in my head, I reach my bike a bit later. It is already dark, there late and now I have also no sleeping place. So I'm somewhat at a loss around and ask at some point a few Iranians for advice. You point me toward of a campsite, he is just a half hour away.
On my way, a further, more curious Iranians discovered me then. He speaks to me and because he knows a little English, we can communicate. After a while, he thinks that I could stay with him. My experience tells me "no, I'd rather not!". But a bad experience to tarnish my point of view on new? No, I'd rather not.
And so I throw myself back into new, unknown. And this time it will be rewarded. My host is incredibly nice, he got just one daughter, lying still with her mother in the hospital. He cooks me dinner and let me not sleep, so he is interested in my tour. Anyway, I have him to thank that the first day was still a happy ending in the Iran.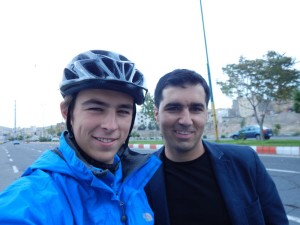 Date: 26. October 2015