After a day in Budapest I continue my cycle journey. When I get up early in the morning the last guests come back from partys. I get my stuff together, check out, and am on the road again. The air is still cool and the streets are still empty. Pleasant. Also the constant howling of the police horns doesn't interrupt the silence yet. So I take my way through the sleeping town.
I'm on a country road, when I see two cyclists in my rearview mirror. They're not locals. When they catch up with me, one of them starts talking to me on German. Glad to talk in my mother language again I tell them about my trip.
After a while the two tell me they have to do a lot more kilometeres today. So they have to go faster. I decide to join them and get myself into theri slipstream. As it turns out it was a good decision. I get along with them very well and so we drive further and further throughout the day. The two men are called Ronald and Peter and come from Ulm. Every year in their vacation they go do another part of the Danube cycle path. This year from Vienna to Baja.
When we eat out at lunch and dinner, they even invite me. And as I still don't know exactly where I spend the night they book a room for all three of us. I am so glad about this. Thank you very much for everything!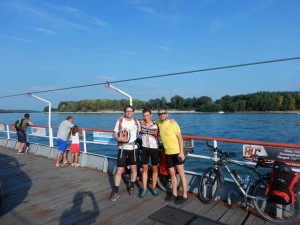 Then, the next day, we split up in Baja. I do some more kilometres to reach Serbian border. As I briefly look at my map in the last village before the border, a man comes over to me. In bad English he asks me:
<< Where you want to go? >>
I answer:
<<; To Serbia. >>
He pointed in a direction and says:
<< This way. >>
When I want to head on he interrupts me. He says:
<< But I have to tell you something. >>
First it seems like the man doesn't even want to tell but then says:
<< Serbia is dangerous. The Serbians have weapons. And if they don't like you… >>, he shapes his hand for a gun, points at me and looked me deep in the eyes, <<… bang! >>
Further he adds:
<< Croats and Serbians are like this. By the way I am the Hungarian. >>
As he tells this, I notice the smell of alcohol in the air. Still, his description sounds quite impressive. He wishes me all the bestand says that I should take car of me.
Thank God I'm prepared for this. I have often read of such descriptions of locals to travellers and that they are total bullshit. Without this knowledge, I would perhaps feel slightly queasy now. As I'm driving towards the border,  the question that remains in my mind is whether the man was ever in Serbia or not.
I cross the border without problems. Only: the Hungarian border to  Serbia is the first one where I have to show my passport.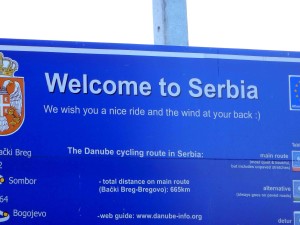 As the sun slowly sets, I'm looking for a campsite in the woods. But I find not a really good one for wild camping. However, so many mosquitoes  gather that I don't want to look further. From a gravel road I head 100 meters into the forest on a dirt road. On the gravel road the border police patrolles from time to time. I hope they won't discover me. But when I'm sitting in my tent I hear a vehicle passing on the dirt road next to my tent. I hope it will be fine and fall asleep.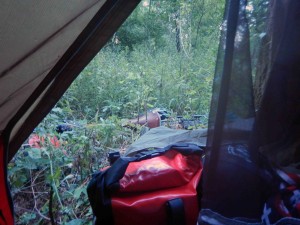 Date: 09. August 2015-10. August 2015
Das könnte dich auch interessieren: