It continues the next morning after a night in the forest. I feel like I could have slept in a honeycomb. Because mosquitoes can't enter my tent, a huge amount of buzzing bloodsuckers gathered around my tent. With so many mosquitoes it sounded as if I were sitting in a beehive. Otherwise the night was rather pleasant. I heard nothing more from the car that drove by in the evening.
In the next village I change my remaining forint in dinar. As I eat breakfast on a bench I win a new friend.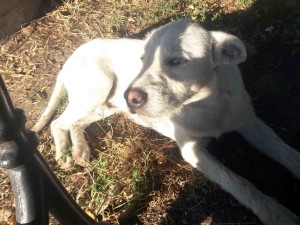 Shortly thereafter I stumble upon a very unusual vehicle. Driving this has to feel rather airy. Frist I think that it is self-made but I'm going to find two more of this kind later on.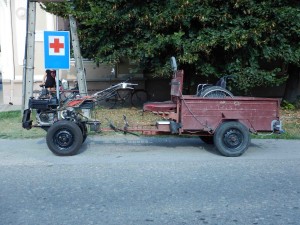 While I'm riding from village to village, I notice that the EuroVelo 6 (cycling route from the Atlantic to the Black Sea) in Serbia is significantly better. I found streets riddled by potholes or holes peppered by road very often in Hungary but here the streets are really great. Of course, the whole thing is criticism at a high level. Soon I will be on even worth roads.
The streets often looked like this in Hungary:
 
Road full of potholes or do you prefer a sand road?
And in Serbia:
  
But: also in Serbia the roads get worth later on.
And the trash on the roadside remains a well-known companion.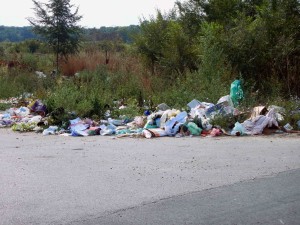 For lunch I'm resting near a village approximately 60 kilometres further ahead. While I eat cereal a local boy comes over. He says not a word, but sits down with me and tracks every hand movement. I must make quite an impression on him.
After my lunch break I feel quite weird and dizzy. I sit down and think about why this could occur. Have I eaten something wrong? Was the sun to strong for me? The solution hits me in the evening, after I decided to go through the last 30 kilometers to Novi Sad. Suddenly nothing of the weakness remains. On the contrary I ride the remaining mileage first with 28 km/h and then with 30 km/h. I think a spider like in the first Spiderman film must have bitten me.
In Novi Sad I stay for a day and then continue until Belgrade. In Belgrade I've booked a hostel room. I'm looking around the city and do a free walking tour, which is quite interesting. There is even a German with which I have interesting conversations.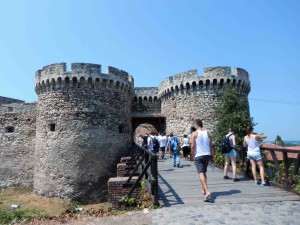 Date: 11. August 2015-15. August 2015
Das könnte dich auch interessieren: