Day 2
The last night wasn't very relaxing, but free though. In a village shop, I stack up some food. Today the sky doesn't look that promising, there could be rain.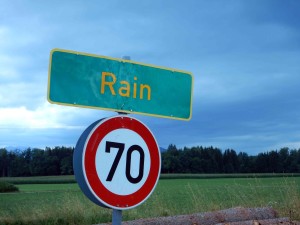 A bad omen? Oh yes: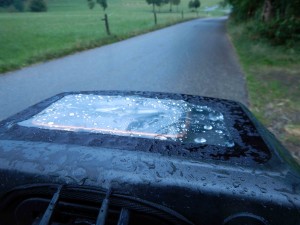 In the rain, I drive from village to village. Today everything is strangely foreign. Nothing is known, I am nowhere at home and I constantly feel a gnawing loneliness. Now I realize why all bicycle touring guides write, that the mental challenge is the hardest. On the one hand being alone and leaving everything familiar, all confidants behind for a perceived eternity, on the other side the necessary strength and stamina to ride the bike 80, 90 or 100 kilometres a day.
In the evening, I arrive in Bad Aibling. Because my legs are burning I want to have a bed tonight and I suggest I easily find an affordable one in Bad Aibling. Fiddlesticks! At the end I ride 15 kilometers against the wind to Bad Feilnbach.
Day 3

Thank God, the sun shines again today. During breakfasts I find the solution for a question of life. I sit myself almost on the answer to the question "What is love?".
And the greatest joy of the day: I find my lost USB stick again. In other words: I can enjoy music! Because of that I go 20 percent faster today. Only after a while I listened through all my tracks and it gets harder again. However, today my luck doesn't end. On the way, I encounter a group of approximately 20 pensioners, who are traveling to Mühldorf. Because half of them ride e-bikes, they are quite fast and I stick to their slipstream.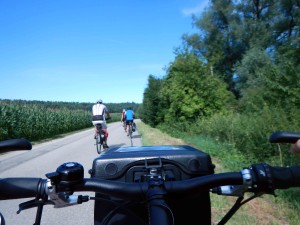 We begin a conversation, and finally I follow with them into a restaurant. By a very nice couple, I'm even driven by car to my final destination for the day. After 90 km with my heavy touring bike I wouldn't had the legs to do so.
What did you like in the last two articles and what not? Tell me in the comments down below!
Date: 25. July 2015-26. July 2015
Das könnte dich auch interessieren: