After I separated myself from Carlos, we continue a few kilometres. In the evening, I reach a small town. Because it makes a rather bleak impression on me, I pass them only, but on the way out I'm stopped by a car. The window is lowered and two pairs of disbelieving eyes watch me forward. Where I do at this late hour still want to go, the first question is.
On my answer, I search just a place to sleep, waving one of the two immediately vigorously and thinks I should follow the car, I was asleep with him today. Said and done. It only cross through the city, then goes over a hill and finally we reach a detached house somewhere in the middle of nowhere. I don't have any concerns but today, because the man serious looks first and second on the lower floor of the House, a family lives.
He leads me to his apartment and that is luxurious, as much of what I've seen so far. There are even European toilets. The toilets in Turkey and in the Iran are one thing for themselves. It is usually standing toilets, like a bathtub, which was embedded in the ground. With this there are a few pines, because the soil is usually dirty and there's this wonderful ass shower instead of toilet paper. When not before a fall the slippers in the bathroom or the toilet clogged, you can clean theoretically with this spray. In practice, it looks like a wet poodle. At least it was made me so.
But enough of the Toilettenphilosophiererei, it now has my host planted me on his sofa and cooked an omelet. He served this to me, as he apologized at all, that he has to offer nothing better to me. I totally love but alone the fact that he has cooked something to me. I also say and cast spells as a smile on his lips.
Because he is keen on my trip, I show him all my photos in the evening. At some point it will but then late and I get tired. My bed is the pride of place right in front of the gas heater. Despite glowing ears and cheeks, I can sleep deep and satisfied as after a while.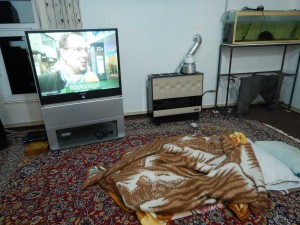 The next morning, my host to the loved one there would keep me's out there has greatly cooled overnight and is freezing cold. That's why he looks also slightly pitying me, when I finally leave. And also I think a short time later, how stupid I am but actually to drive in ice cold here, where I could sit in a warm but also beautiful. But the cold is not the only inconvenience. Only be still mountains and when I finally on this highly fought me and am on the departure, a so strong wind blows at once, that I must step down even more! Hello!?! As Peter has allowed itself probably once again a joke.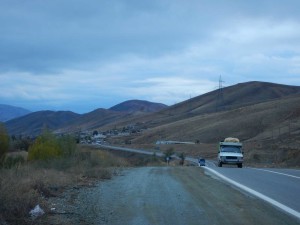 At least the sun comes out for lunch and I can hear an audio book by Eckhart Tolle. So then a few kilometres over the day tumble. But long enough and in the evening I am somewhere in the nowhere, hüglig and cold it is. I can see even snow on a hill right by me. I'm glad to see that the wind is coming from there. And even somewhat more consideration could take this damn truck!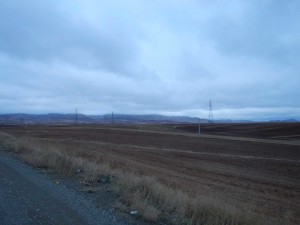 Little grummelig's goes through the wilderness. As whistles at once a car's past me and keeps fremdland on the rocky side stripes. The door opens and out goes an Iranian cheerfully welcome me. "Hello! "Where do you go?" I call my goal for today originally planned: Divan which deer. He tells me that these are still 30 km and it is cold. Cold? Real? But he says he's from divan which deer and I would load my bike in his car.
In this small car? I have some concerns, but since I have even a better idea, as a freezing night in the middle of nowhere today, I agree. We load the bags into the trunk, then the bike is off. Just halfway we have it in the car, because it's stuck the first time.
But the Iranians will not be discouraged and so we push back cheerfully's before us, going back and forth, I screw up still a wheel and after about half an hour, we have managed the seemingly impossible. It is in there. In the car.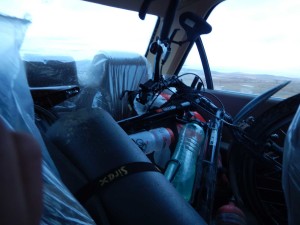 So I'm sitting with a grin in the passenger seat, here comes the next question from the Iranians: "Where you asleep?" I shrug his shoulders and answer only: "I don't know yet.", which to my new friend thinks "My home!" I ask one thing surprised, "Really?" Sure, I get only the resounding answer of "I am the Iranian!" and a big grin. He cheerfully turns up a strange-sounding, Iranian music and begins to sing along. It is the last 30 km of the hilly countryside, until we finally reach his house.
He has a wife and baby and I will warmly receive. I get to drink a cup of tea, but to rest me too much time. It namely shortly thereafter continues, to a friend who is of English more powerful. Before that I'm dressed but still in a Kurdish pants and my new sight incredibly rejoices my host.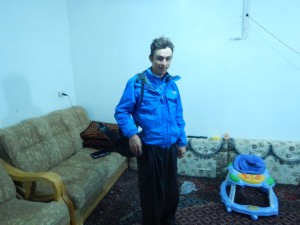 With his friend, we ride in the evening for dinner. For them, it goes without saying that they invite me. As well of course as that they buy all possible fruits and other food me afterwards. I think it not so self-evident and trying to slow the two. But with little success.
Also tonight I sleep again in an incredibly warm heated room. Iranians seem to have a different sensitivity to heat. But always better than out in the cold. And so I leave divan is deer the next morning well rested with a Royal breakfast in the stomach and good food in my panniers.
Das könnte dich auch interessieren: