This post is translated by a computer! I will translate it by myself as soon as possible. If you want to help with the translation, contact me, it is always appreciated.
When I wake up the next morning, it is very foggy and the temperature has dropped slightly. For the first part I roll downhill for 10 kilometere.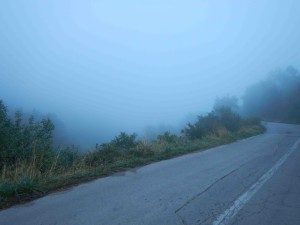 After I arrive in Pirot, a city near the border, I have a break. So that I lose no money, I spend all my remaining dinar and stack up on supplies. Then I get myself a second breakfast and drive towards the border. As it turns out, the road to the border is quite crowded, but thank God not all in my direction.
However, it becomes dangerous at one point. There is a long queue of cars and one BMW starts to pass the queue. Even so he sees me. As he comes closer and closer towards me, I realize that there is not enough space on the street for both of us. Off into the ditch! When I climb out of it, the BMW is already far away. What an A*****.
Arriving at the border, I draw all a lot of attention. Not surprise, since I am the only cyclist among all cars. Out of one bus with mainly older people, a lot of unbelieving eyes watch me. I think that especially my young age makes them curious..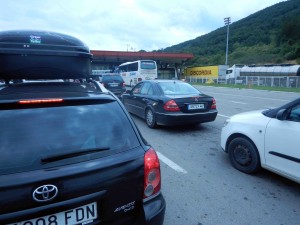 A sign after the border crossing in Kalotina. It appears Asia isn't that far away anymore:
After crossing the border uphill kilometers back to kilometers. As I me raise have labored on nearly 800 meters, it is already late afternoon. After Sofia are still good 30 km.
Except for road I until now still haven't seen much of Bulgaria. There seems just right, that my route in the first bigger town turns to the border. On the outskirts of this city, I enter a quarter, the only dark-skinned people live. The district is badly run down and children meet all the time about me, who are smoking. Children 8-15 years old! Approx. Half of them have a cigarette in his hand! The whole thing seems to me totally suspect. How can the parents approve of that? When I search I my way through the quarter, a little boy accompanied me at some point. His clothes are torn though and his face dirt smeared, yet he grins head over heels and happily gets things to the stranger. I stop here and try to explain that I speak no Bulgarian him. To me, a small group of four or five children begins to collect. Initially they are very friendly and I oil the little boy his bike chain. It turns but quickly when they start to ask for money and I give none. They begin to tug on my pockets and try to tear them down, but fortunately everything is well tied up. Nevertheless they do it, to divert me from my chain oil. Goodbye I'll give then a bar them, just to break the usual pattern. Maybe it helps some.
Later, I learn that they probably belonged to the ethnic group of the Roma. In Bulgaria they are strongly affected by marginalization. I have spoken also Bulgarians, who say that many Roma do not work and are so poor. I don't know what's exactly wrong, of course.
On the last kilometers to Sofia there then a Cloudburst, the strongest to date. Sofia is only a few kilometres, in the distance I can see it already: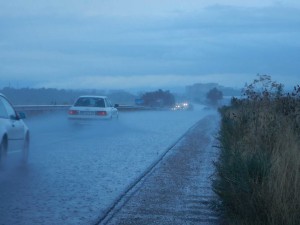 The few kilometers should take so long or? I also think me. That's why I'm not bother to dress me and rain resistant. As it turns out: a mistake. I do me totally, among other things, because I can no longer use the touchpad of my cell phone in the rain. Only after three hours wandering I arrive totally soaked and verfroren.
My warm showers place to stay is this super. I came, "Sofia Bike" bicycle rental. The people who work there are really nice and helpful. While I stay in Sofia they help me maintain my bike and wash it. Just amazing!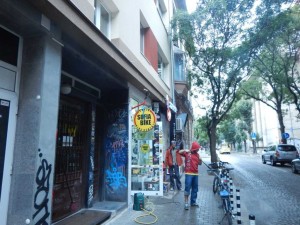 I'm staying for four days in Sofia. I use all the time, my bike to fixed and my blog update. I can't get to a sightseeing tour, but I had anyway not so much desire. On the day of my departure from Sofia, I come first started at 14:00. That's why I can do only 47 kilometers until the evening, so this is the first so far short day of tour.
The next days are quite monotonous. The second day after my departure leads me through wooded mountains, then the route passes more in a plane. You know somewhere deep in Bulgaria, also finally appreciate me. So I thought it would. (I'm born in 1996.)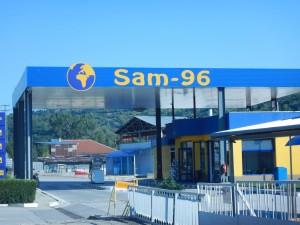 In the evening, I suggest always my tent, somewhere well hidden, in small pieces of wood. On the fourth day I built up just my tent next to a field, since I hear at once how to approaching a tractor. Would I be should I now probably are looking for a new place to camp me in Germany. The Bulgarian peasant gives me to understand that I can camp here easily and quietly. Super!
I also need a peaceful sleep, because tomorrow, for me it is in Turkey. I'm already looking forward.
Date: 20. August 2015-27. August 2015
Das könnte dich auch interessieren: