After I'm broken by Sergei and Eva, uphill once long time. At the end I get out on a vast plateau. Because there not above was tarred me first some more sweat. For this I am experiencing the land but much expliziertet. As I drive through a village, I attract a group of curious school children running for a time behind me. The elders of the village are, however, slightly towards me.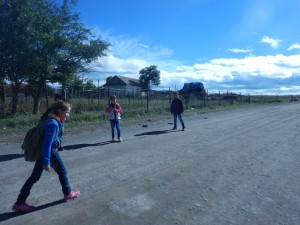 Great strides then goes towards border. In the last town I make it yet, my 6-7 remaining Lewis for a 10 Levi to redeem expensive hat. And I need the CAP. Because as the sun slowly disappears behind the mountains, it's getting cold. Very cold. I am also again on over 2000 meters.
Just before I start looking for a campground, I meet two other cyclists of travel in the opposite direction. The two come from Poland and from Tbilisi to Yerevan and now back on the road again.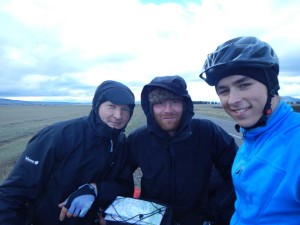 A short time later, I open my tent next to a small strip of forest. Now even a cold wind around my ears whistle to the disgrace of the hour and the temperature drops further. I am me in my tent and slip into full gear in my sleeping bag. It's so cold in the meantime. Only the tip of the nose shows the night still out of my sleeping bag.
When I then wake up in the morning the tent walls are frozen. For the first time on my trip, I am glad that my sleeping bag has its comfort temperature in the range of 10 to-10 degrees.
I put together my gritty tent and leave. It's while freezing, but when the fog is released, a landscape extends from touching beauty before my eyes. It is wonderful. Under a clear blue sky, a vast steppe stretches, framed by snow-covered peaks. Frozen dew glitters on the grasses and dense fog just above the ground pull every few kilometers.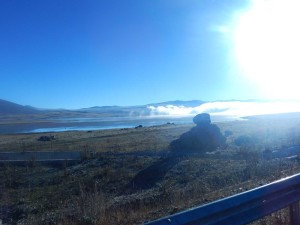 Astonished, I drive and forget about even my gefrorrenen toes. So I arrived in an instant on the border. I rich my passport and come more easily.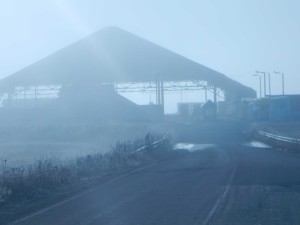 On the Armenian side, I will pass through without any problems. I continued my way, but once the roads are bad. This goes so far that all cars are right next to the road. I can twist me but easily to the potholes and so the road for me.
The fascination keeps me for the landscape but also in Armenia firmly under control. Day-timed but never quite letting after sometime a bit. It continues through wide and open levels, always snow-covered peaks in the background.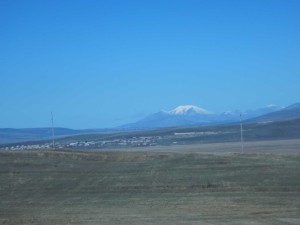 Around noon, I then reach my first large Armenian city: Gyumri. I make sure that I have some money to spend, then eat I something else.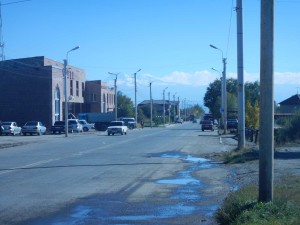 Well saturated, it then continues. The map shows me that I covered mountain which rises in front of me, right will go to the big snow. My goal is behind it. Yerevan. Thank God, I've learned, and no longer blindly trust the Navi. Otherwise, I'd be right now on the way to 3500 meters. It could have been funny.
So, I strample but still 40 km on the odometer before I look around for a tent place. I find myself on the edge of an abandoned industrial area. There's certainly something which could accommodate me for the night. Abandoned Industriegebiet…in a good idea?
I will quickly find it. A small hut with a missing door makes the race. I build my tent in her and hope that my neighborhood is so quiet and non-existent also overnight. As the Sun over the abandoned industrial area to end lower, I'm back then in my tent. In the period of an hour out there still nobody had been to see. I scare briefly as I think the rustle of the trees in the wind for steps, but then realize this and asleep eventually satisfied, deeply and firmly.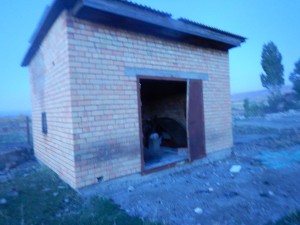 The next morning it turns out, the night in the hut was worth. While out there sticking the morning dew on the Meadow, my tent is completely dry. Wonderful. Good things I leave and must first uphill. And then then uphill. And then looking up again. …was the hell! Yerevan should be but 1000 meters below me. Why are then always uphill? Lack of understanding giving way eventually for motivation. There, the police control, that lower your Loupe does not take me can cheer myself.
Only when I want to buy grapes in a few older women, that will change. I have still not spoken to end, since already a Chair is offered to me. And there's even a PITA to the Chair. And then a second and a third. I leave Papsatt again for a while. Goodbye, the three give me even a bag full of grapes and eight apples. Wow!
Yerevan's remains but hilly. The legs burning and I'm tired and tired and… then I'm here. All of a sudden a drive in the city. I will begin with the search for a hostel, as I discover a small bike shop next to the road. The store looks very much like hobbyists. I will start a conversation with the owners and they tell me the way to a nearby hostel. Only I don't want to stay there cooking, because it is distant from the Centre, but the price is good with 7 euro and I get even the six-bed room for me alone.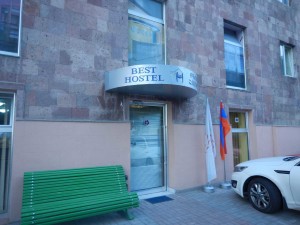 I spend the next few days in Yerevan. On a weather map is a rain front on the way, I decide to do so, to take the bus from Yerevan to Tabriz in the Iran. Otherwise I would have had to passes on this 500 km 4-5, three of them two are at over 2500 metres. Quite possible that I would then have the snow.
Date: 15. October 2015 to 24. October 2015