I stay just a little longer in Trabzon, Turkey, because it rains several days continuously. At some point, the sun comes out but then again and that is my main signal. When I get on my bike, warm feeling through my legs flows happy, as if they would have cheered: "We're back in the game!" I was probably to no longer sitting in the saddle.
And so it goes almost entirely alone direction go, quickly Georgian border. I'm so motivated my first break only after 50 kilometers.
In the evening I'm considering then, where I could stay for now. On my card, I do a long tunnel and a small country road, which separates the sea and tunnels. There, I have good chances.
And bingo, I find a suitable place, above a cliff that plunges into the waves still agitated by the rain. Only the proximity worries me to an adjacent House. As take that's why two young men in the parking lot, I ask the two to their consent. However, it turns out that not even the owners are. But with their help, we contact the owner. He has a better idea but prompted me to follow the two young men on my bike After one kilometre we reach a beach. Class! This is a super place to camp. Somewhat lonely, but it flat and dry.
So I build my tent and my two friends left me sometime. But not for long. After a quarter of an hour, they return with firewood in the luggage. I had not expected! We build a small bonfire next to the tent and watch a while the blazing flames. Then the two break up again. I sincerely say goodbye and let me beside the fire down, pleased with the warmth that it gives me. Since the rain of the last few days it has cooled sharply.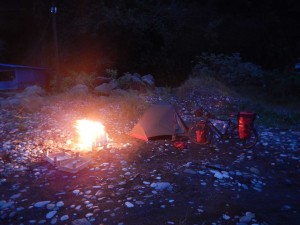 So I'm sitting there awhile and Kindel unpack sometime mine, to read a bit. Until at some point a small Spotlight around my small campfire circle. I try to make the light source and discover an older man 30 meters away in a hut. I draw attention on me and after a while he comes across. We chat a bit and when he sees that to burn down fire, it disappears and comes back with more wood. He invites me to breakfast the next morning, then he goes back.
When the fire burns down I'm going to bed and stop by in the morning with the older men. He was already busy preparing breakfast. We eat together and drink Cay. The man shows me yet a group of bumbling puppies that was born from the bitch that he cares. Incredibly sweet and curious! I must leave but then after a while, I come today to Georgia.
There are two surprises in the next town. I can make snow in the mountains in front of me and meet again my two friends of yesterday, which brought the fire wood. The two are totally pleased to see me and we begin to entertain us, or to communicate using sign language and Google Translator. It comes still another man and eventually the opportunity opens up, that they arrange me a bus to the border. I am considering shortly. Three days of Sun are announced, then it should rain heavily. If I take the bus up to Georgia I could make it through the upcoming pass until then.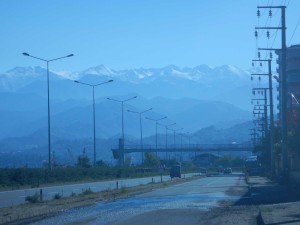 I suppose and the man who earlier came to waiting with me on the side of the road on a bus. Here in Turkey, to stop the buses just middle of the road. When we then find a bus to Batumi, he controls everything, and goodbye he gives even a sweater me, so that I'm better prepared on the snow in the mountains.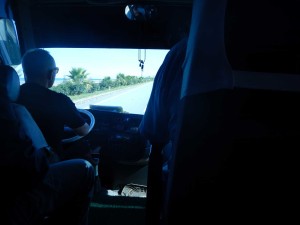 So I nozzle the last 80 kilometres towards Georgian border. Arrived at the border, a giant serpent in bosom, cars and trucks wait for us. That's why the bus driver let me bike further. So I meander past me just on the sheet metal avalanche and untroubled, coming within 15 minutes, on the Georgian side.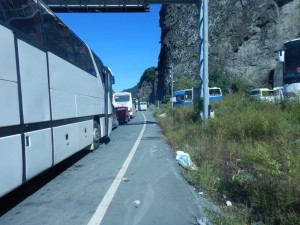 The first thing I discover on the Georgian side, is a church. It was built right after the border. So again, I'm in a Christian country.
I'm going towards Batumi and turn about in a Valley, that should lead me to my first pass. From a distance, I can see the snow from here.
I can push 30 kilometres still in the Valley. Then it darkens slowly and I build my tent near a village. It looks good here although very open and not hidden, but the passers-by who come greet friendly. I'm here so not undesirable.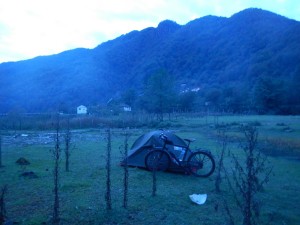 Das könnte dich auch interessieren: